The Baltic Times
Vol. 10 #788 February 2 – 8, 2012
BUSINESS
Fifty-five-year old Danute Minkiene, a resident of Klaipeda, has been jobless for nearly one-and-a-half years now, and she is exhausted from filling out stacks of job application forms, browsing endlessly on the Web and hassling her employed relatives with the same requests. Nothing has produced a job.
Laid off by a Klaipeda-based public catering company expecting to revitalize itself after making cuts, she was confident she would nail down a provision manager's job at another similar company. But this proved to be a much harder task than she ever thought. With the hopes of finding a job in her field dwindling, Danute scrambled to get any job to make ends meet. This has also been impossible.
What makes the plight worse, her 22-year-old son Mantas, who graduated from Klaipeda Tourism School last summer, is also jobless. Exasperated and distraught, he paces from one room to another puzzled at how to cough up enough money for a trip to the UK where he, assisted by friends, Lithuania's new emigres, might be luckier with a job search.
In these hard times, the Minkai family rely on a 1,600 II-tas (463 euros) wage earned by 58-year-old Algirdas Minkus, a welder at a Klaipeda stevedoring company. With the money gone for heating, food and Danute's medicine necessary to subdue the more acute migraine lately, there is no money left to pay the son's bus fare to the UK
"I've never thought life might turn so unbearable in Klaipeda, which has always been a better place to live. Even during the Soviet times," says Minkiene.
She and her son are two of 238,000 jobless persons in the country, totalling 11.5 percent of the entire workforce.
Employment possibilities for Mantas may be even slimmer, as the jobless rate among youth is at staggering 23.5 percent, reports the Lithuanian Labor Exchange. It granted the status of unemployed person to nearly 7,800 people during the week of Jan. 20-26, and youth up to the age of 25 makes up 20 percent of the number.
Klaipeda has always had a vigorous labor market, known for one of the lowest unemployment rates in the country. And, the seaport still boasts very low joblessness, at 8.6 percent currently, but the number does not console people like Danute and her son.
In comparison, joblessness is much higher in the neighboring districts of Skuodas and Silute, where the rate is 14.7 and 13.2 percent, respectively. "Although the unemployment rate is pretty low in Klaipeda, it is not so in Klaipeda Municipality and Klaipeda Labor Exchange (KLE). It is on the lower end in Klaipeda due to a catastrophic decrease in Klaipeda residents because of the staggering emigration, which in Klaipeda, per capita, is among the very highest in the country," Viktoras Andriejauskas, a business owner in Klaipeda, pointed out to The Baltic Times.
It is estimated that over 50,000 Klaipeda residents have left for abroad in recent years. It, has seen a 15.6 percent population decrease over the last ten years.
The official statistics, however, puts the estimation much lower. The explanation for this Is simple: many emigrants, In attempts to retain their unemployment benefits in Lithuania, do not report their departure to local Immigration Services.
The majority of those who left sweat it out at work in Scandinavian countries. If you happen to get onboard an Oslo-bound SAS plane from the Palanga-Klaipeda
Airport, you will hear the continuous prattle about fishing trawlers, oil drilling platforms and the exhausting work, from both aisles of the plane.
Though KLE reports claim that in Klaipeda there are 1,000 job vacancies, Minkiene and her son find that hard to believe. "When we talk to a KLE specialist, we hear that there are quite a few jobs that we do not qualify for, even for a few openings," says Mantas Minkus. Both mother and son have enrolled in the KLE's active labor market policies measures; in other words, apprenticeships aimed at re-qualifying people who don't have the skills for the existing labor market. Jobs, however, are not guaranteed upon completion of the training.
"Only during last December did 255 persons enroll in the program," a KLE representative told The Baltic Times. He could not tell how many re-trainees were able to get jobs. "The situation in the labor market is such that the number of unemployed doesn't reflect the real situation, which could be described tersely this way: there are no high-skilled specialists to hire out there. Even at the lower management level. And those with skills have taken Jobs that usually do not require much training. You can have ten candidates for one place, but the problem Is no one comes even close to the requirements an employer has. There are not many people to choose from," Leonas Makunas, head of Klaipeda's Industrialist association, says.
Among the most sought-after specialists at the seaport are skilled welders, electricians and assemblers of trawler hulls, distance route drivers, and even seamen.
Where are the people?
They have left for the countries where they are paid better and where their knowledge is more valued.
"Besides the challenging social economic situation due to the crisis, Klaipeda is rapidly losing its long-cherished reputation as a city of big business opportunities. That is why young people are leaving. Klaipeda businessmen have assessed that emigration costs the city around 627 million litas a year," Aras Mileska, chairman of board of Klaipeda's Small and Medium Business, says.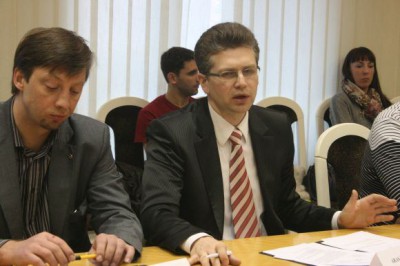 He notes that the trend in registration of new enterprises is quite alarming. Though 519 small- and medium-sized new enterprises were registered in Klaipeda last year, 11 percent up from 2010, 469 enterprises were crossed out of the registry, a whopping 72 percent up from the previous year.
Klaipeda Municipality's heads like to tout on every occasion of increasing investment per capita, but the seaport entrepreneurs point out that the indicator has been severely distorted. "The officials set the indicator very simply – divide the investment total by the heavily reduced number of Klaipeda's population, disregarding the emigration. No wonder Klaipeda, at that rate, has come close to Vilnius, which has not been affected by emigration so badly," Andriejauskas says. He adds: "The social economic changes that we see happening now in Klaipeda will shape the city for many years to come, I am afraid, irreversibly. Klaipeda is not the attractive city many used to know before."
The entrepreneur says not only foreign, but also domestic, emigration hits the seaport. "More and more Klaipeda residents move out from the industrial city's areas to more quiet neighborhoods, choosing to ride in to work daily. This way the people's income and some other kinds of taxes go away," notices Andriejauskas.
"Klaipeda, as the rest of Lithuania, gets older and is producing less income," says Mileska.
In 2011, Klaipeda's coffers came short of 5 million litas, collected from resident income, land, land rent and real estate taxes. The reason for the shortage Is simple: the new socio-economic reality shaping up in the wake of the crisis, and which Is still pressuring many facets.
In light of this, Klaipeda municipality's budget planners are moving ahead with a 2012 budget draft, down nearly 20 million litas from the 2011 budget "It In urgent to Invest Into youth's nourishing of entrepreneurship. Otherwise, the trends can become too hard to reverse," Andriejauskas says.
Though the joblessness rate keeps steadily inching down in Klaipeda, it is a tricky thing as the number of social payout receivers has surged nearly fourfold in two years: from 1,902 persons in 2009 to 11,728 persons at the end of 2011.
Danute Minkiene and her son, out of a job for so long, are no longer eligible for social benefits. Klaipeda has lost any charm for them. And there is no hope the seaport can soon regain its attractiveness for many of its former residents.
By Linas Jegelevicius, KLAIPEDA
Šaltinis: Savaitraštis The Baltic Times
Komentarai
Palikti komentarą